Location: South Shore – Lake Tahoe, CA
Duration: 4 – 5 hours
Elevation Change: 3,681′ – from 7,200′ to 10,881′
Recommended Map: Freel Peak, California
Elevation Profile:

Map of General Route: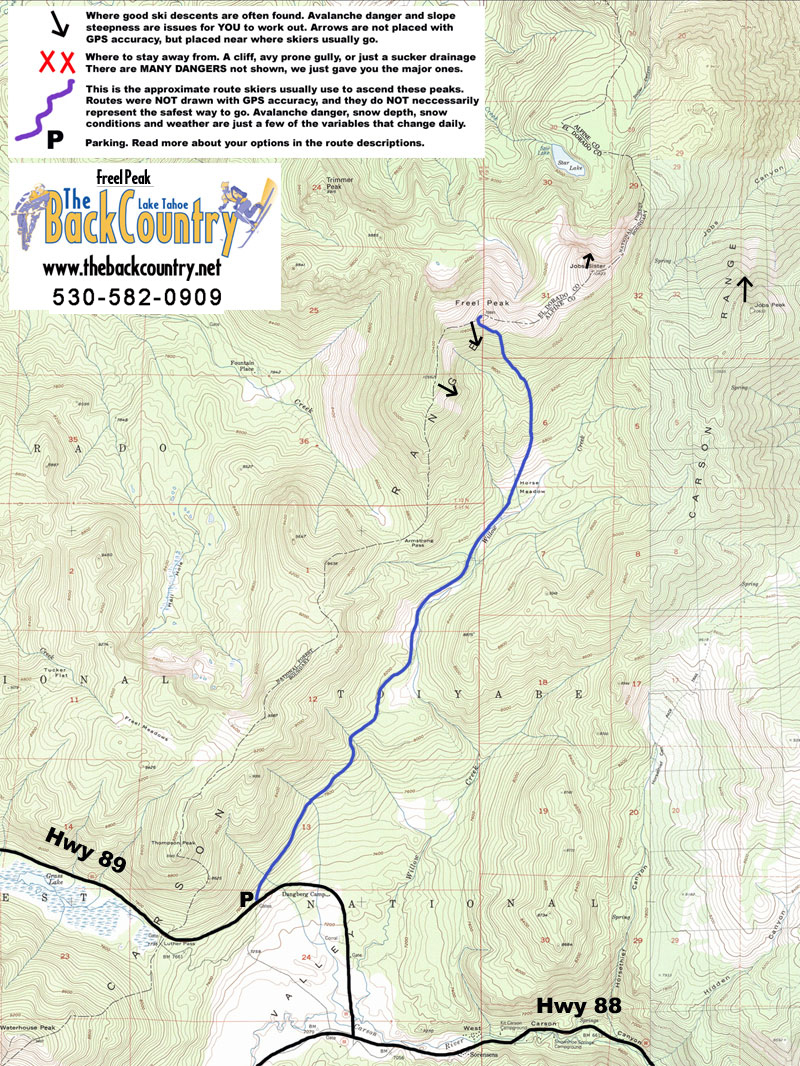 Skiing Freel Peak is generally something you do for your tick list, or just to get away from everyone. With 4 miles very low angle terrain between your car and the mountain, Freel Peak doesn't get skied very often. Bring some kicker skins, and you can save lots of time cruising to its base. Bring adjustable poles, as you'll need to push a bit during the skate back from Horse Meadows to you car. The good news is the climb is quite easy considering you are going up Tahoe's tallest peak. This is a really nice tour into a quiet valley that hides our highest peaks – Freel, Job's, and Job's Sister. They are all a bit scratchy to ski from the approach I describe here, as these are high south and west slopes that see a lot of wind.
To ski the south side of Freel Peak,  park in a small pullout on Hwy 89. It is located 2 miles north of Hope Valley. The pullout is marked "gate" on the topo, and is on the east side of the road. This is where you would drive into Horse Meadow during the summer. I'm not sure how reliably this entrance is plowed. You won't need much room, you will be the only party there most likely.  Follow the snow covered fire road as best you can. Within a mile or two, it becomes easier to just aim for Freel Peak. You will gain 1500' during the trip to Horse Meadow, but it sure won't feel like you climbed much. Resist climbing up any real slope until you are sure you know which peak Freel is. Peak 10,562' lures you up its south ridge quite easily. I have made this mistake and enjoyed the tour, but Freel Peak fell just out of reach because of the mistake. The ridge in-between is slow going.
Freel Peak's south side is usually hardened from sun and wind, but the adjacent east facing runs on peak 10,562' may be better. If the snow isn't great on either, you'll have a really nice, wide, 2,000' patch of real estate to figure it out. I guess I don't think of this tour as having great snow because I would normally choose better ski terrain after a storm. I save this one for hard snow to travel fast and knock out an obscure ski tour. 
There are some long ski tours on the north side of Freel Peak that I haven't done.
Job's Peak 10,633' and Job's Sister 10,823' can be reached in the same day if you are the fast and light type. Visiting all three summits is about 9 miles one-way, with 5000' of climbing and 1700' of descending. From Job's Peak, you will have an additional 3,500' to descend over 7 more miles. Don't bring your big skis out here.  You might try waxless skis if you ski well on them.
Since you don't go back to Freel that often, there are 2 other marathon days worth considering. One is a 1,700' descent of Job's Sister's north side down to Star Lake. There is mellow terrain to hike back up in-between Freel Peak and Job's Sister. The second marathon tour is the descent of Job's Canyon, beneath the steep north face of Job's Peak. You'll need to leave a car in the foothills above Minden, NV.
You can see Lake Tahoe quite well from the top. You will also get a great view of Steven's and Red Lake Peaks at Carson Pass.